Dr. Ashish D. Dhadas is a renowned General and Laparoscopic Surgeon, who has successfully treated more than 1000 patients with Varicose Veins. With an experience of more than 18 years in General Surgery, Laparoscopy and Surgical Gastroenterology, he is known for managing complicated cases in his specialities. He routinely does General surgery, Laparoscopy, Endoscopy and  Laser treatments of Varicose Veins.
Dr. Ashish Dhadas has a special interest in the Endovenous treatment of Varicose Veins and is trained at The Whiteley Clinic, London and Clinica Miyake, Brazil. He offers Endovenous Laser Treatment (EVLT) for Varicose Veins patients in his own Surekha Varicose Veins Clinic at Samata Hospital, Dombivli. Started in 2013, this is the first of its kind clinic in Dombivli – Kalyan area dedicated to the accurate diagnosis and apt treatment for patients suffering from Varicose Veins. The clinic is recognized for its expertise and encouraging results. It has patients coming in from various parts of Thane, Mumbai and rest of Maharashtra too.
Dr.Ashish Dhadas is also the first surgeon from India to undergo training in Cryo Laser and Cryo Sclerotherapy (CLaCS) – a novel Brazilian technique for treatment of small varicose veins and spider veins. He is attached as a visiting consultant to few other reputed medical centres in Dombivli-Kalyan area.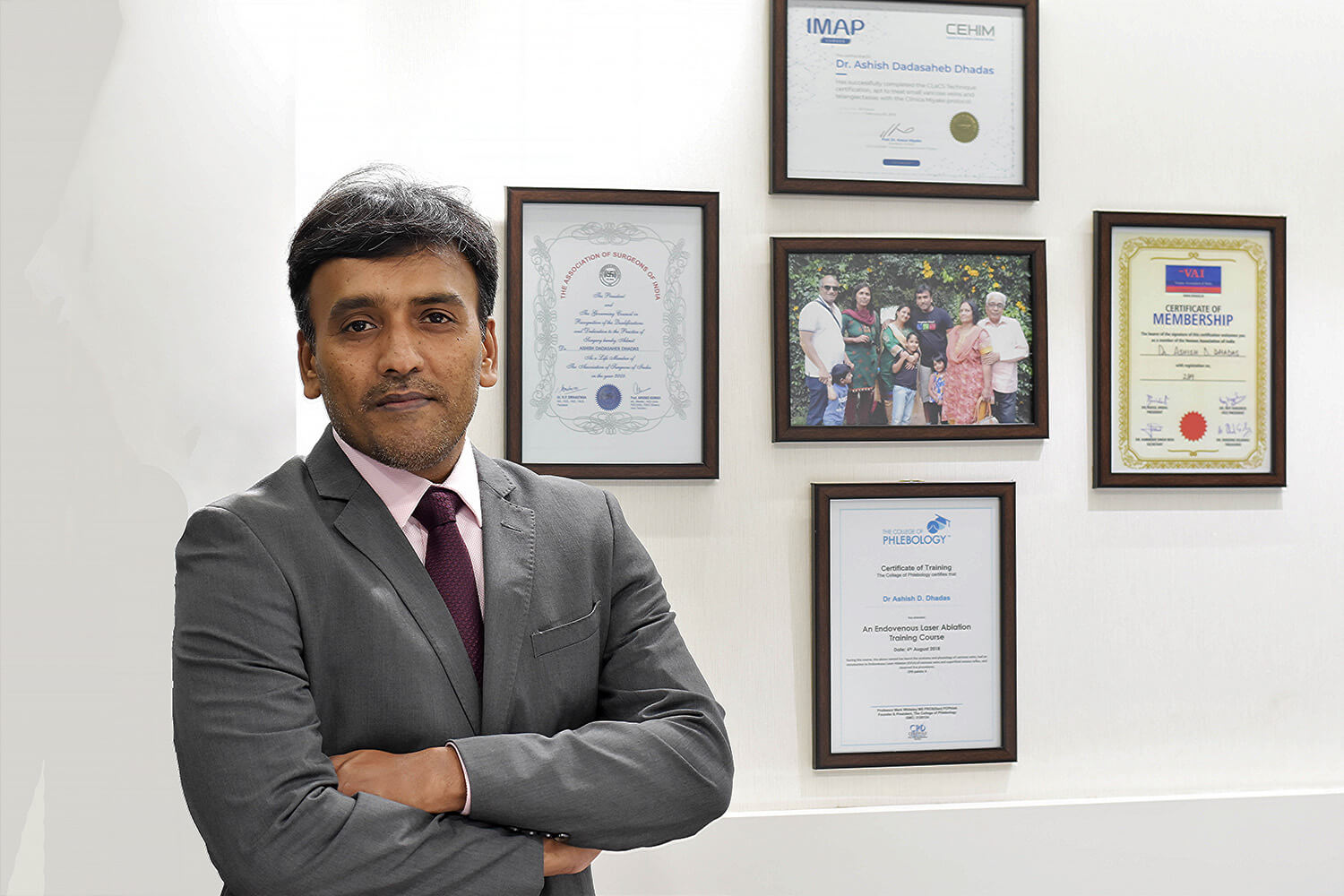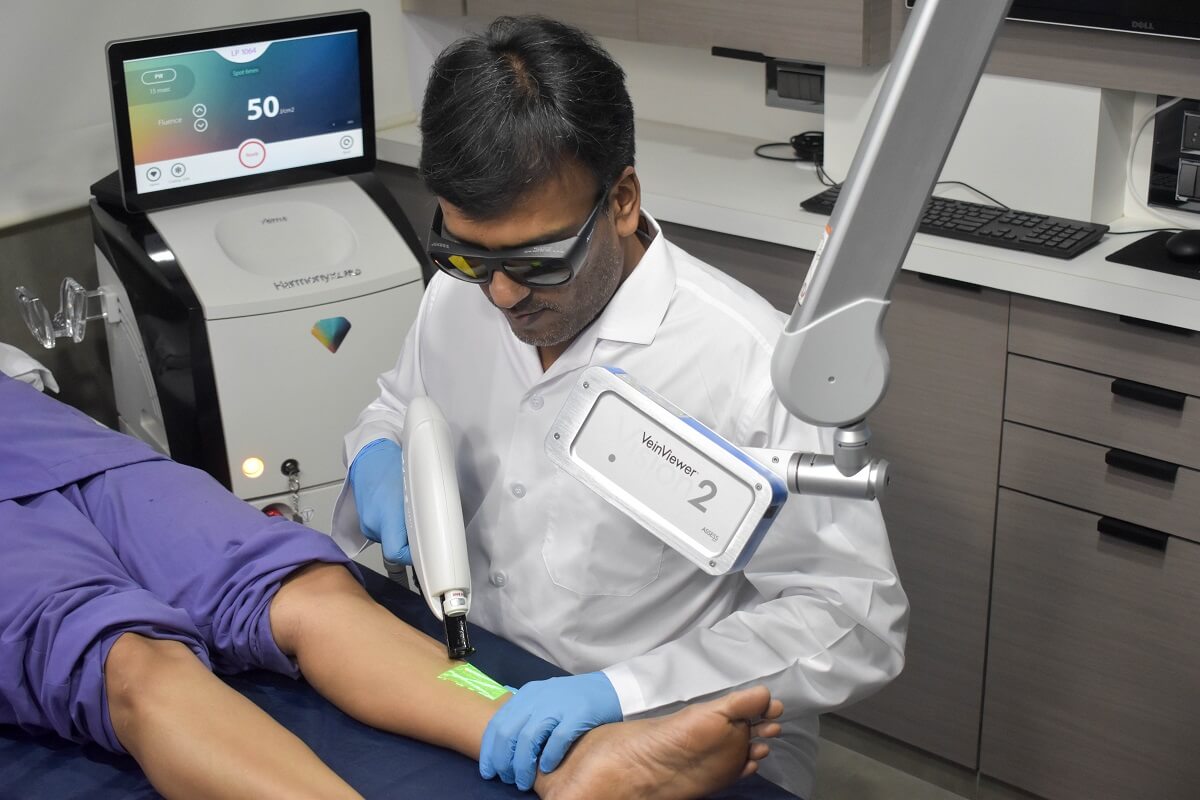 General & Laparoscopic Surgery
Surgical Gastroenterology
Varicose Veins – Laser Treatment
SURGEON FROM INDIA TO UNDERGO CLaCS TRAINING AT CLINICA MIYAKE, BRAZIL
SUCCESSFULLY TREATED PATIENTS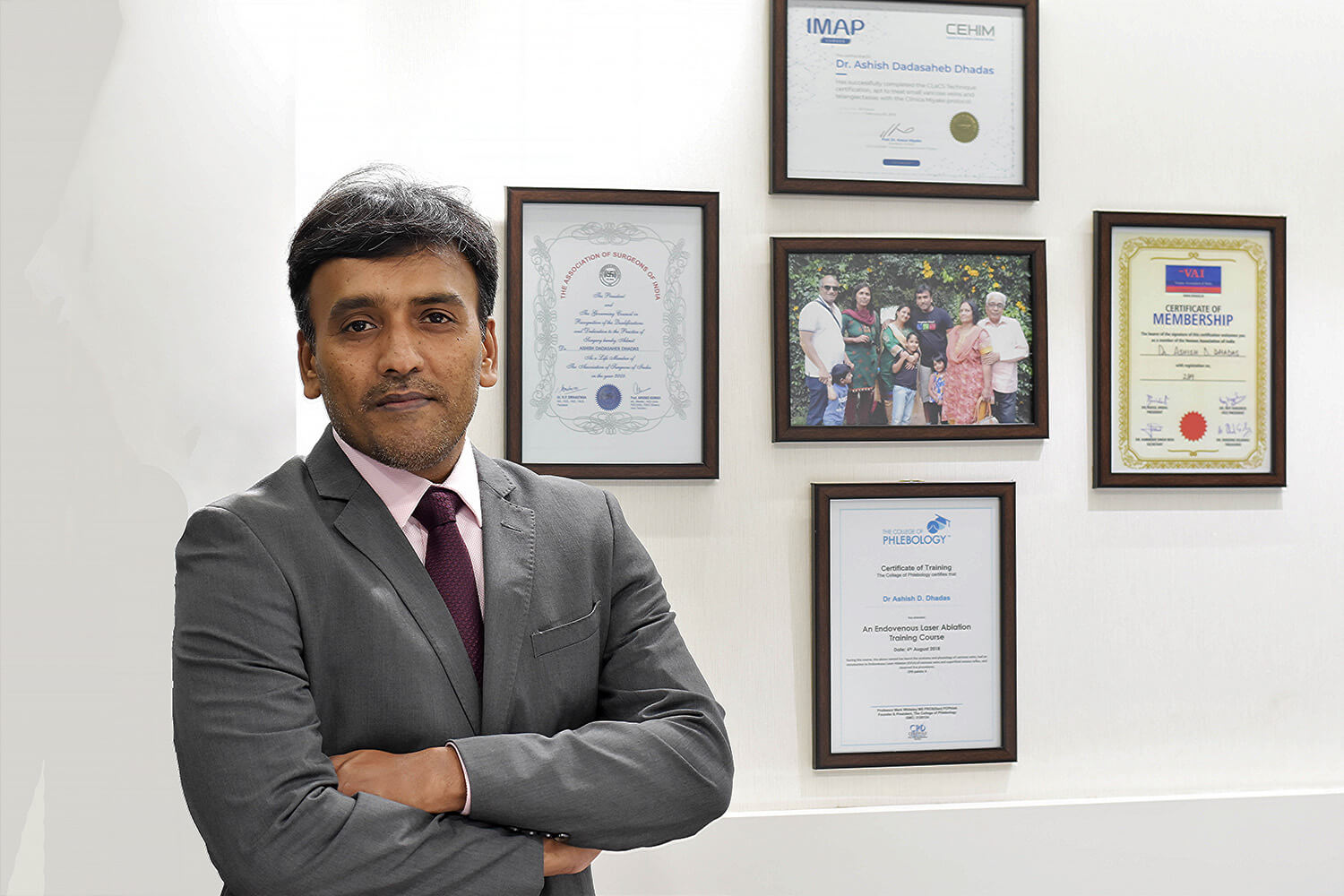 Degree From Seth GS Medical College & KEM Hospital, Mumbai
APRIL 1998 – MBBS
Degree From TN Medical College & BYL Nair Hospital, Mumbai, India.
JULY 2003 – MS (Gen. Surgery)
Fellow of Indian Association of Gastrointestinal Endo Surgeons
APRIL 2014 – Fellowship
Consultant General and Laparoscopic Surgeon trained at the prestigious KEM and Nair Hospitals, Mumbai.
Trained and Certified in Endovenous Laser Treatments at the prestigious Whiteley Clinic, London.
First Surgeon from India to undergo training in "CLaCS" procedure for the treatment of Spider Veins and small Varicose Veins at Clinica Miyake, Brazil.
More than 18 years of experience in his field of expertise.
Speaker at International Meeting of Aesthetic Phlebology (IMAP LIVE) in June '20.
Speaker on CLaCS at Online Meeting under the auspices of Faculty of Medical Sciences, Paraguay and International Union of Phlebology in July '20.
Speaker on "Basics of CLaCS" at "Hands On CLaCS Workshop" organised by Egyptian Venous Forum and Royal Vascular Centre in September '20.
Designated as Trainer for CLaCS at the Harley Street Symposium, Singapore in July '21.